Treatment
Acupuncture Overview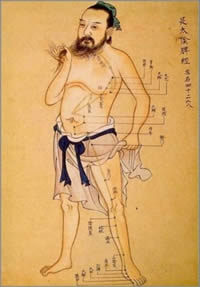 Acupuncture is a powerful system of medicine practiced for over 3000 years. It is based on the principle that life and health are sustained by the smooth flow of Qi (pronounced 'chee') or vital energy, which travels through the body via pathways called meridians. When the flow of Qi becomes disrupted it manifests as pain or disease of body and /or mind. Physical injury, emotional stress, poor diet, exercise and sleep are examples of things that disrupt the flow of Qi. By stimulating certain acu-points with fine needles, we can help the body reestablish the free flow thus promoting good health and well-being. Since acupuncture is a holistic medicine which treats the root cause of the problem, in addition to seeing improvement in your main concern, you are likely to experience positive changes in your overall health.
Acupuncture works by addressing the root cause of a problem not just the symptom. A simple way to think about this is to envision a plant. When the leaves turn brown it is a visible indication that something is wrong. You could apply some green paint and cover up the brown, which is similar to taking medications to cover up a symptom. You can also cut off the brown leaves, which is comparable to having a surgery to remove organs. Unfortunately, painting and cutting off the plant's leaves will not address the true cause of the problem.the plant needs water!
Our body is no different and, while it often makes sense to get relief from symptoms, the root cause must be addressed in order to truly heal and avoid more serious and deeper problems.
Treatment Experience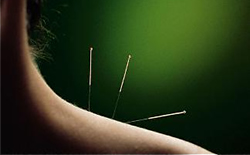 Receiving acupuncture treatment can be a unique and powerful healing experience. Contrary to a common perception, acupuncture treatments are almost painless and very relaxing. A lot of patients fall asleep during a treatment and report feeling very peaceful and calm afterward.
The first appointment is typically two hours long and it consists of a consultation, diagnostic evaluation and treatment. During this visit we will speak at length about your health concerns and address any questions you may have about acupuncture and the healing process. We will also discuss your health and personal histories in detail, followed by a physical examination. Alina will use tongue and pulse diagnosis to assess your health. The primary objective of the first appointment is to uncover the underlying conditions that have led to your current concerns. After enough diagnostic information is gathered, you will receive your first acupuncture treatment.
Following the initial appointment, ideally you will be seen in weekly one-hour sessions for 6-8 visits. During this time, significant signs of progress will likely appear. As patients experience improvement in their condition and enjoy a greater sense of ease in life, treatments may be extended to every other week, every three weeks, monthly, seasonally or as needed.
"Instead of encouraging the body to become reliant on a particular therapy or medication,
Traditional Chinese Medicine strengthens the body so it can rely on itself."
The World Health Organization recognizes the ability of acupuncture and Traditional Oriental medicine to treat over 43 common disorders including:
Addiction (alcohol, drugs, smoking)
Anxiety
Arthritis
Asthma
Bronchitis
Carpal tunnel syndrome
Chronic fatigue
Colitis
Common colds
Constipation
Dental pain
Depression
Diarrhea
Digestive trouble
Dizziness
Dysentery
Emotional problems
Eye problems
Facial palsy/tics
Fatigue
Fertility
Fibromyalgia
Gingivitis
Headache
Hiccough
Incontinence
Indigestion
Irritable bowel syndrome
Low back pain
Menopause
Menstrual irregularities
Migraine
Morning sickness
Nausea
Osteoarthritis
Pain
PMS
Pneumonia
Reproductive problems
Sciatica
Seasonal affective disorder (SAD)
Shoulder pain
Sinusitis
Sleep disturbances
Smoking cessation
Sore Throat
Stress
Tennis Elbow
Tonsillitis
Tooth pain
Trigeminal neuralgia
Urinary tract infections
Vomiting
Wrist pain
*Note: Acupuncture is often effective therapy for other chronic and painful debilitating disorders which have no clear explanation or origin.
Insurance
I am an in-network, participating provider for:
Blue Cross Blue Shield/Carefirst
CIGNA
Aetna
Jonh Hopkins EHP
Please, call us at 443-416-1170 and we'll be happy to verify your benefits for you.
If your insurance does not cover acupuncture, our fees are as follows:
Initial Acupuncture Appointment (Consultation, Evaluation and Treatment) - $150
Follow-up Appointments (1 hour) - $80
Payments
Payments are collected at the time of service. We accept Cash, Check, VISA, and MasterCard.
Cancellation Policy
If you need to cancel an appointment for any reason, please let us know at least 24-hours in advance. There will be a $40 charge for missed appointments or appointments cancelled less than 24 hours in advance.